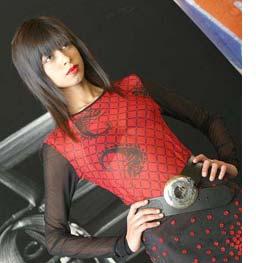 For those new to the art of make-up or not very familiar with the right way to do it, here's the low-down on each of the basic make-up products and how to use them from make-up expert Kapil Bhalla.

Foundation
The first rule to picking up foundation is to buy one that is closest to your skin colour. If you don't get foundation in your skin colour, then mix two colours to get a better finish.
Dab the foundation in dots on your face and then rub it in.
Don't cake your face with foundation by using too much of it.
Use foundation to smooth out imperfections on your face like blemishes and dark circles.
Set the foundation with compact powder so that the finish is good and the make-up stays for a long time. Never use the powder alone as it will not give the desired effect.

Eye make-up
Most women just wear eyeliner, but that alone will not accentuate your eyes, says Bhalla.
Use mascara along with your eyeliner or kajal.
To give your eyes a bit of shine and colour, use eye shadow.
If you are not very familiar with eye shadow, then take a colour that matches your outfit and use it on your eyelid.
While using eyeliner on your upper eyelid, start with a thin line in the inner corner of the eye and make it thicker as you go out.

Blush
Blush is something most women are unfamiliar with. However, it is very easy to use and adds a lot of colour and freshness to your face.
The trick to using blush is to just use a little of it and go for colours that are pale pink or peachy pink. Do not use very strong colours for blush.
When applying blush, do it on the area of your cheek that highlights when you smile. Or, as Bhalla says, wear the blush on the smile of your cheeks.

Lipstick
Defining the lips is important.
Use a lipliner to define the outline of your lips and use a lipstick to fill it. Make sure the two blend well.
If you don't want to use lipstick, then just go for gloss to highlight your lips.
ALSO SEE
Look beautiful in five minutes
Photograph: Jewella C Miranda
Editorial support: Imran Shaikh