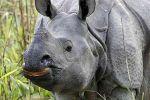 With rhino poachers giving sleepless nights to forest guards manning the Kaziranga National Park (KNP), the Assam government has armed the Assam Forest Protection Force (AFPF) personnel with 200 SLRs (Self-loading rifle) besides dispatching additional force to the wildlife protection area that is recognised as a World Heritage Site by the UNESCO.

Chief Minister Tarun Gogoi on Tuesday ceremonially handed over 50 SLRs to the AFPF personnel in Guwahati. Gogoi expressed confidence that reinforcement of forces, armed with sophisticated weapons, would further strengthen security in all the 152 camps inside the Kaziranga National Park (KNP). 

"The forest personnel with their sophisticated weapons will be able to match the firepower of poachers and help to protect the rhinos in their natural habitats," he said.
Poachers have killed 13 rhinos in the KNP this year, while twenty-eight rhinos have perished in three waves of flood that deluged the park since June this year.
Gogoi said a slew of steps initiated by the state government have led to conservation success stories of Kaziranga and Manas National Parks. "The population of rhinos, elephants and other wildlife has gone up in comparison to other parts of the country, thanks to the concerted efforts of forest officials and forest guards over the years," he said, adding the increase in population of elephant has led to man-elephant conflicts.

"The recent killing of rhinos in Kaziranga National Park has been a matter of serious concern for one and all. Our government has viewed it very seriously and would do everything to protect the rhinos and other wildlife from poachers as well as natural calamities like floods. We will plug all the loopholes to bring an end to poaching. I welcome all the organisations and NGOs to join hands with the government to protect our wildlife and their habitats from every impending danger," he added.

Gogoi said the government will bring out a white paper on various measures taken towards conservation in Kaziranga National Park including anti-poaching measures and action plan as demanded by the opposition Asom Gana Parishad. "No other government has taken various measures than our government leading to conservation success in Kaziranga National Park and bringing Manas National Park back from the brink of extinction," he added.

Assam's minister for environment and forests, Rakibul Hussain said, "The forest battalion and additional forces that are being deployed in the 152 camps in all the ranges of Kaziranga National Park coupled with posting of experienced officials will further augment security in the park," he added.
Rakibul said that 100 additional security personnel have already been deployed in Kaziranga National Park in the past two days.