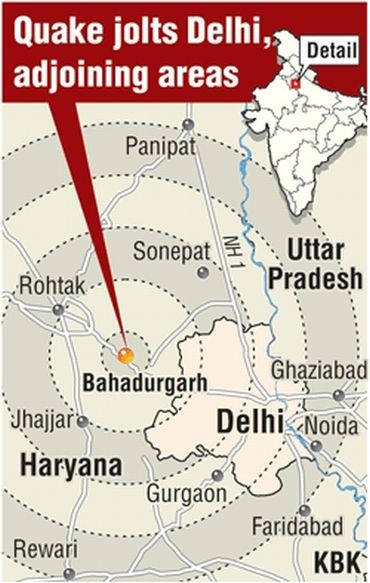 Strong tremors were felt across national capital New Delhi and adjoining regions of Noida, Ghaziabad, Najafgarh and Gurgaon at 1.10 pm on Monday afternoon.

Five people have been repprted to be injured in the earthquake that lasted for about 10 seconds.

There are conflicting reports about the magnitude of the earthquake that shook Delhi and its adjoining areas. While the Indian Meteorological Department measured the quake at a scale of 4.9, the United States Geological Survey put the magnitude at 5.2 on the Richter scale.

According to meteorological department officials, the epicentre of the earthquake has been identified as Bahadurgarh in Jhajjar district of Haryana.

The epicentre is about 34 kilometers from Delhi. Many people in residential areas of Delhi rushed outside their homes.

According to reports, the tremors were felt as far as Uttar Pradesh, Punjab and Rajasthan.

The fire brigade and police said they have not received any immediate calls of casualty or damage.

Seismologists argue that the tremors were strongly felt in the capital and its adjoining regions because it was very close to the epicentre, Bahadurgarh in Haryana.
Met officials state that it is very hard to predict whether the aftershocks would be felt in the quake-affected areas. But they assure that people need not worry, as this was a medium intensity quake.
However, according to initial reports, the ceiling of a primary school building fell in Rohtak in Haryana.

According to the Seismic Zone Mapping done by the Geological Survey of India (GSI), Delhi is among 30 cities in the country falling in zone IV, which is defined as a severe intensity seismic zone.

This is the third tremor in Delhi, which is among the 30 cities which fall in the high risk seismic zone, since September last year.
Tremors were felt in the capital on September 18 last year following an earthquake with an intensity of 6.8 on the Richter Scale having its epicentre near Sikkim-Nepal border.
On September eight last year, an earthquake of 4.2 on Richter Scale with Haryana's Sonepat as epicentre, had rocked the capital.

The tremors were felt in parts of Haryana, particularly those areas falling in the NCR region which are close to Bahadurgarh including Gurgaon, Rohtak, Jhajjar, Hisar, Bhiwani and other places.
Some places in Punjab and Agra in Uttar Pradesh also experienced the tremors.
Initial reports reaching here said that people at some places in Haryana, including those inside their offices, rushed out after the tremors.

For more realtime news updates, click HERE