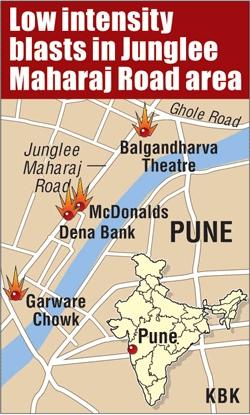 Four low-intensity blasts took place on Pune's Junglee Maharaj Road on Wednesday evening within a span of 40 minutes. One person has been injured in the blast.

Police sources have confirmed that there were in all four blasts in all and the fifth bomb has been put out. All the four explosions occurred within a one kilometer radius and the bombs were planted systematically, say insiders.

One bomb was kept in a cycle carrier, one in a dustbin and the other close to a local bank. The three explosions took place near Dena Bank, Bal Gandharv Theatre and McDonald's, according to media reports. These explosions took place within the 1 kilometre radius.  A fourth blast has been reported from Garware Chowk.

Home Minister Sushilkumar Shinde was supposed to visit Bal Gandharv Theatre this evening. He cancelled his plans at the last minute.  
The Anti-Terror Squad is at the location of the blasts and the area has been cordoned off.   
Investigators are yet to give some clarity on the substances that were used for the blasts. On the face of it, it appears that all the bombs were timed in a manner that each would go off within a span of minutes to create maximum panic.
However, the intention was not to create major damage as the intensity of the blasts were very low. The police suspect that all the bombs were connected to a timer device and could have been triggered off with a remote control. However, they would still need more time to give a clearer picture of the attack.

Following the blasts, the city witnessed several traffic snarls.      
Junglee Maharaj Road is a popular hangout for youngsters
Graphic: KBK Graphics