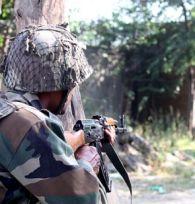 Militants shot dead a former militant in south Kashmir's Anantnag district. They also carried out a grenade explosion in north Kashmir's Sopore town on Tuesday evening injuring two persons.
A senior police officer said militants fired at Munawar Zaman Malik, a former militant, from close range injuring him critically.
"Malik was evacuated to hospital where he succumbed to his injuries," the officer said.
Two people were injured in a powerful hand grenade explosion in Sopore town. The officer said militants hurled a grenade at a paramilitary, Central Reserve Police Force camp. The injured were shifted to hospital for treatment.