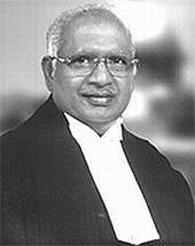 The Supreme Court on Monday asked the Centre to file its response on a PIL seeking the initiation of removal process of former Chief Justice of India K G Balakrishnan from the post of National Human Rights Commission chairman for his alleged "misbehaviour" and purchase of benami properties.
"At this stage, we are asking the Centre to file its response within three weeks," stated a bench headed by Justice B S Chauhan.
During the brief hearing, the bench said the ministry of law and justice should apprise the court about the status of the earlier complaint filed on this issue.
"More than two-and-a-half years have elapsed since we made the complaint with them. The complaint was supported by documents. This issue cannot be allowed to go on and on," said lawyer Prashant Bhushan, who has filed the PIL on behalf of NGO Common Cause.
"We want to know as to whether they (Centre) have disposed of the complaint or it is still pending with them," the bench said.
The PIL sought the competent authority to make a reference to the apex court to hold an inquiry against Balakrishnan.
"The main allegation pertains to purchasing benami properties in the names of his daughters, sons-in-law and brother. The respondent no. 2 (Balakrishnan) and his kin continue to enjoy these properties or the profits earned from them even at present," the petition said.
It alleged that despite there being evidence indicating that Balakrishnan has been guilty of several acts of "grave misbehaviour", the government has refused to initiate the process for his removal from the office of chairperson of the NHRC.
The PIL also sought a direction to the government to comply with the Supreme Court's May 10, 2012 order -- when t had asked the then President Pratibha Patil to take a decision on a complaint filed before her against Balakrishnan -- regarding his alleged misconduct during his tenure as a judge in the apex court.
The apex court had refused to direct the Centre to recommend a Presidential reference for removal of Balakrishnan as the chief of the NHRC.