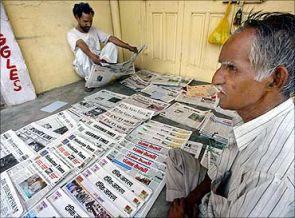 The Delhi high court on Tuesday dismissed a PIL seeking to make Indian citizenship a pre-requisite for a person to be appointed as the editor of a publication.
Rejecting the plea filed by former Union Minister Subramanian Swamy, a bench of justices Pradeep Nandrajog and V K Rao said, "The issue is under consideration and pending before the Parliament and court will not interfere into it."
Swamy sought a direction to the Centre to rectify the lacuna in the Press and Registration of Books Act regarding the definition of 'Editor'.
Read the Delhi high court judgement
The petitioner had argued that the foreign direct investment policy of the Government of India, in the domain of publications, allows 74 per cent foreign direct investment with the pre-condition that in the print media at least three-fourth of the board of a print media company must be Indians and all key editorial posts must also lie with resident Indians.
"It may be true that even the legislature has so opined evidenced by the fact that the Press and Registration of Books and Publication Bill, 2011 which has been cleared by the Select Committee and is pending before Parliament, has suggested amendment to the Act by defining editor to mean a person who is not only an ordinary resident in India but is also a citizen of India," the court said.
"But it is for the legislature to consider the bill at the floor of the House and not for the court to legislate. Hoping that the Parliament would find some time to consider the Press and Registration of Books and Publication Bill, 2011 which is pending consideration now for over two years, we dismiss the writ petition declining relief as prayed for," it said.
"It may be true that in today's context, media, both print and electronic, have become much more powerful due to their reach and the evolving concept of what is called paid news. As literacy increases the media becomes powerful and influences the political and social thinking of the targeted audience..," the bench observed.
Swamy had in his petition raised the issue of Siddarth Varadarajan, a US passport holder, being the Editor of 'The Hindu'. The court noted that Varadarajan has already resigned from the daily.