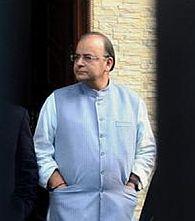 The much-touted Food Security Bill was taken up in Rajya Sabha, with opposition terming it as a "gimmick" with an eye on elections and accusing government of violating constitutional norms by issuing an ordinance when Parliament session was less than a month away.
While supporting the Food Security Bill, Leader of the Opposition Arun Jaitley said it was "repackaging" of various existing schemes like PDS, mid-day meal and ICDS and there was nothing new in it.

Speaking on a statutory resolution for disapproval of the Food Security Ordinance, Jaitley who was joined by CPI-M, CPI and AIADMK in moving it, said it was issued in a hurry and less than a month of beginning of Parliament session.

"An Ordinance is brought if there is a matter of utmost urgency and it can't await the Session of Parliament...What would have happened in 30 days that we couldn't wait. The Constitution does not allow so... It is misuse of your right to issue an Ordinance," Jaitley said.

Questioning the hurry in issuing the Food Ordinance, he said, "At best, it could be aimed at reaping political benefits."
Terming it as a "repackaging" of existing food schemes, Jaitley said the total amount of subsidy provided under various food schemes like PDS, ICDS and Mid-Day meal scheme is Rs 1,24,844 crore and that provided in Food Security Bill is Rs 1,25,000 crore.
His party colleague Venakaiah Naidu said the Bill is a "gimmick" by the government as elections are a few months away and actually there will be no benefit for the people.
"For four and a half years you never thought of this. Suddenly a few months before elections you are rushing through this Bill...you suddenly bring it before elections," he said.

Questioning the logic behind the Bill, Naidu said, "The Planning Commission says poverty has come down. If poverty has reduced, then why are you bringing this Bill? There is no satisfactory answer to this."
"This bill should appropriately be called The Repackaging of Existing Food Schemes Bill," said Jaitley.
He said the Bill only provides for the right to food against the entitlement given under existing PDS schemes and has no other benefit.
Jaitley said many states already had better PDS schemes and the Centre should have a "large heart" in allowing them to continue. He cited the example of Chhattisgarh which provided more nutritious food under PDS than the Food Security Scheme brought by the Centre.
Extending full support of his party to the Food Security Bill, Jaitley said, "The way the Ordinance was brought, a lot of reform is required."
He said while the Ordinance was issued on July 5, Monsoon Session of Parliament started on August 5 and guidelines of the scheme are yet to be framed.
He wanted to know as to what the government wanted to achieve in these 30 days that it was issued in such a hurry except for asking some states to score political points by symbolic start of the scheme.

Welcoming the move that states will have powers to implement the food law, Jaitley said the Centre has evolved a scheme of "one size fits all irrespective of the peculiarity of the state".

He pointed out that 75 per cent of the rural population and 50 per cent of the urban population that the scheme aims to benefit is the upper cap and not the base.
"The Bill is an abuse of the Ordinance issuing power. It legislates on the subject which has to be implemented entirely by the states. It merely repackages the existing schemes of government. It neither increases the coverage of existing schemes nor the financial grant to them. It is inferior to what state governments are already offering," he said.

Jaitley said since the law is almost in its entirety to be implemented by states, it would be appropriate for the Centre to make it mandatory for every state to have a Food Bill.