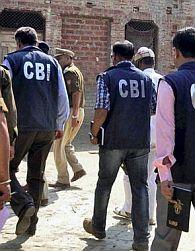 Even as Rashtriya Janata Dal chief Lalu Prasad Yadav cools his heels at the Birsa Munda jail in Ranchi following his conviction and sentencing in the multi-crore fodder scam, his private secretary Mukul Kishore Kapoor, who is allegedly also involved in the scam, still remains traceless.
The CBI is yet to make any breakthrough on the whereabouts of Mukul who disappeared mysteriously 17 years ago.

Mukul was Lalu's private secretary during the latter's tenure as chief minister between 1990 and 1996 and went missing soon after the fodder scam was unearthed.
Interestingly, sources close to Mukul and relatives of his estranged wife seem to know of Mukul's whereabouts.

Mukul has been staying in Dehradun, Uttarakhand for over a decade. He is healthy and enjoying life. We failed to understand why the CBI has failed to arrest him in connection with fodder scam, they said.

What's more, over a year ago, it was widely-reported that Mukul had 'surfaced' in Patna to buy two flats in an apartment in the state capital.
"Mukul knew more than any one, as he was considered eye and ear of Lalu Prasad Yadav. But he disappeared soon after fodder scam surfaced. It was Mukul, who reportedly kept the accounts of the huge amount of money involved in fodder scam," a senior police official, who assisted the CBI in the case, told rediff.com in Patna.

"Mukul's arrest could reveal more about fodder scam. After all, he was the second powerful person in the state after Lalu till mid 90s. Everything used to pass through him before Lalu then," a senior IAS officer said.

Lalu's rivals repeatedly said that Mukul was forced to disappear to protect Lalu.

"Mukul was asked to go underground and live a life away from limelight because his arrest would create more trouble for Lalu," Nitin Navin, a Bharatiya Janata Party leader, claimed.