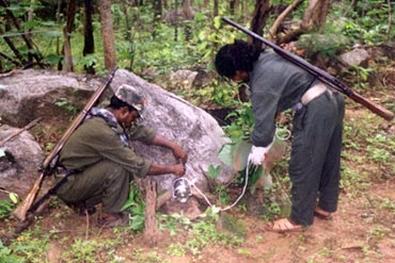 The probe into the latest Naxal strike in Chhattisgarh -- in which 27 people including senior Congress leaders from the state were killed on Saturday night -- has revealed five glaring security lapses that may have led to the mayhem.
An officer with the National Investigation Agency, which is probing the attack, outlined the security lapses.
Despite knowing that they were passing through a Naxal-infested area, the Congress leaders took no additional precautions.
The highway between Sukma and Jagdalpur had not been sanitised due to the shortage of manpower in the police force. Naxals used this to their advantage by placing landmines on this route.
An intelligence alert had indicated that Naxals were planning a major operation since the last six months. But the agencies failed to detect signs of the impending attack.
The Congress leaders decided to travel together due to security reasons despite being warned against doing so. Had they maintained the prescribed distance, so many of them would not have walked into the ambush. The reinforcements came in late since the security personnel had to traverse the path on foot, as they could not risk their vehicle driving over any hidden landmines. There was no system in place to send the rescue force by choppers.
As per the operating procedure, Central Reserve Police Force's personnel were supposed to be patrolling the entire area. But the local administration felt the overwhelming presence of CRPF personnel was affecting civilians in these areas, and the paramilitary men were instructed to tone down their patrolling.
The route of the Congress convoy was changed at the last minute at the insistence of a local leader. The convoy was supposed to travel from Sukma to Dantewada but at the last minute the Congress leaders decided to travel via the Naxal strongholds of Tongpal and Darba Ghati Road.
Photograph: Chindu Sreedharan