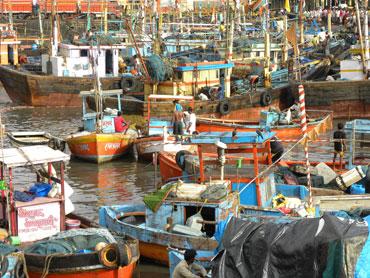 All 40 trawlers which went missing in the Bay of Bengal following a storm were traced on Monday, but two of them capsized leaving seven fishermen missing, officials said.
Thirty trawlers are taking shelter in Odisha's Dhamra port area while 10 others are safe in West Midnapore's coastal area, said Kiran Lal Das, assistant director of fisheries department.
He said that all trawlers were now returning to Kakdwip in South 24-Parganas district after they were lost in the sea on Sunday evening during a storm.
Two of the trawlers Suryanarayan and Maharudra had capsized 10 kilometre away from Jambu Dwip. "Seven fishermen are still missing but all others are rescued. Efforts are on trace them," the official said.
The Coast Guard had led the operation to locate the trawlers, Sundarbans Development Minister Manturam Pakhira said.
The trawlers, each carrying about 16 fishermen, had gone to the sea for fishing a few days ago, but contact between them and a liaison unit of the fishermen association at
Kakdwip snapped during the storm on Sunday night, the association secretary Jaykrishna Halder said.
The rescued fishermen were hospitalised, he said.
Image is used for representational purposes only.