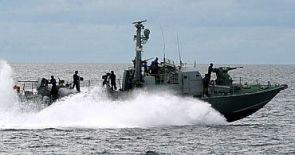 Taking strict action, the Coast Guard has ordered a Board of Inquiry against the commanding officer and crew of its warship which collided with a fishing trawler killing two fishermen off the coast of Goa on Thursday.
Two fishermen were killed and four others went missingafter the ship 'ICGS Vaibhav' collided with their fishing trawler 'Sea Messiah' off south Goa-Karwar coast.
The Coast Guard has ordered a Board of Inquiry into the matter against the Commanding Officer of the rank of DIG and other crew on board the vessel, sources told PTI.
The brand new ship was on a sea sortie and is yet to be commissioned into the force.
The sources said the Coast Guard officials realised that the collision with the fishing trawler had occurred after they return to the coast.
The "carelessness" of the ship's crew would also be looked into by BoI headed by a senior DIG of the maritime force, they said.
Earlier, there was confusion on whether the ship belonged to the Navy or the Coast Guard, but it later emerged that it belonged to the Coast Guard.
The vessel built by the Goa Shipyard Limited was to be formally commissioned by Defence Minister A K Antony on May 11 but it is learnt that the Coast Guard function is likely to be cancelled, Navy officials from Goa said.