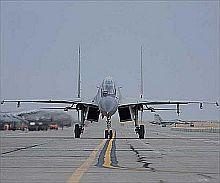 India and Russia are expected to sign the first of a series of agreements for the development of fifth generation fighter aircraft (FGFA) to meet futuristic requirements of the Indian Air Force during Russian Prime Minister Vladimir Putin's visit to New Delhi later this week.
"We expect to ink the agreement for the development of FGFA design and its technical parameters after March 10," sources in the United Aircraft Corporation said.
The comments come ahead of Putin's two-day visit to New Delhi begining on Thursday.
The twin-stick two seater version of the futuristic multi-role fighter jet for the IAF would be developed by the Hindustan Aeronautics Ltd (HAL) and 'Sukhoi' Corporation, which is part of the Russian integrated aircraft manufacturer UAC on the parity basis.
"India would be the only partner in the FGFA project and the two sides have agreed to share the proceeds from the sale of the fighters to third countries keeping in view their intellectual property rights," the sources said.
The design of the FGFA for IAF would be based on Sukhoi's T-50 PAK FA technology demonstrator, which after making its maiden flight on January 29 is beginning a series of trials.
According to local media reports, the cost of the project would be around $ 8-10 billion and would be shared by India and Russia on parity basis.
The aircraft would carry a price tag of $ 85-100 million and would be available in the global market after India and Russia meet their initial requirements.
Image: A head on view of the SU-30 MKI as it taxis down towards the runway