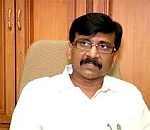 Shiv Sena spokesman Sanjay Raut justified the police action against the two girls from Palghar for their Facebook comments against the shutdown for Shiv Sena Chief Bal Thackeray's funeral.
"Balasaheb's death has been a shock to the entire nation. Sainiks showed tremendous restrain in controlling their emotions," Raut told PTI.
"The bandh was spontaneous and not forced by the Sena. It was because of the love and respect for Balasaheb. Shiv Sainiks were naturally upset at the misuse of the social media to post provocative comments," he added.
Inquiry report expected on Wednesday: Maha govt


Meanwhile, the Maharashtra government said the report of inquiry, ordered into the arrest of two girls is expected on Wednesday.
"The inquiry has begun and will look into whether the arrests were warranted and whether the sections applied were correct. Similarly, the probe will also investigate the incident of vandalism in the aftermath," Home Minister R R Patil said.
The government instituted an inquiry headed by the Konkan range inspector general into the matter on Monday and sought a report immediately.
Patil said it would be wrong on his part to comment on the police action when the inquiry was on.
The report of the IG level inquiry in the case is expected on Wednesday, he said.
"The government has taken the incident very seriously," he said, adding more clarity was required in the IT Act to prevent misuse.
Maharashtra Chief Minister Prithviraj Chavan told reporters, "Let the report come, then action would be taken."

Image: Shiv Sena spokesperson Sanjay Raut