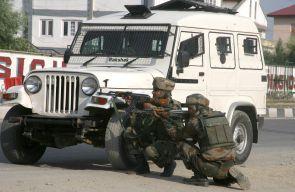 The death of soldier M Yadaiah in the militant attack in Jammu and Kashmir has left his family members shattered in his native Mahabubnagar district of Andhra Pradesh.
"He was the first one in the family to get a job. We are shattered. Ours is a very poor family," Yadaiah's brother Niranjan told PTI over phone from Mahabubnagar district.
Yadaiah, 28, belonged to the backward Kondareddypalle village in Kalvakurti mandal of Mahabubnagar district.
The militants ambushed an Army convoy yesterday killing eight Army jawans, including Yadaiah, and injuring 19 others near Hyderpora area on the outskirts of Srinagar and sped away after carrying out a second strike at a police check post.
Yadaiah is survived by wife, two daughters and parents.
The parents and other family members of Yadaiah were inconsolable after the death of their brave son who laid down his life in the service of the nation.
Yadaiah, an NCC cadet while pursuing education, studied up to Intermediate in Kalvakurthi before joining the army in 2003, Niranjan said.
He worked in Goa and Assam prior to being posted in Kashmir a year ago.
"We are a very poor family. How will the family survive now? The government should come to our rescue," he said.
According to a defence press release, the mortal remains of the deceased soldier are likely to arrive by air Wednesday evening.
The funeral will be held with military honours.
State information minister D K Aruna, who hails from Mahabubnagar district, conveyed her condolence over the death of Yadaiah in the militant attack.
She said the state government would help the deceased soldier's family members, an official release said.
Image: Security personnel take positions after a militant strike on an army convoy outside Srinagar on Monday
Photograph: Umar Ganie