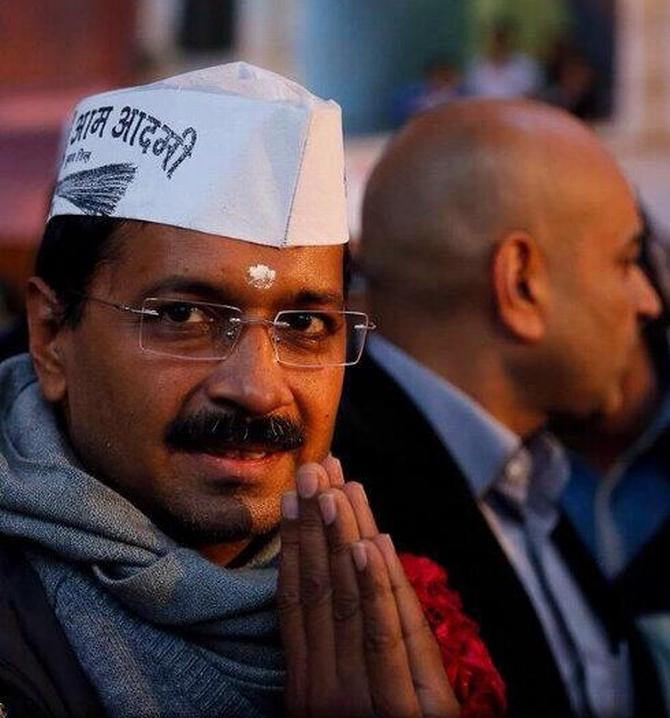 All it took was 49 days for a common man and his broom to bring about sweeping changes to not only the way politics is done in this country but also the perception about how it can be done.

Enter the Chat Room
Emerging as the mascot of an alternative brand of politics, Arvind Kejriwal, the 45-year-old engineer-turned-civil servant-turned-politician, changed the nation's political discourse with a stunning showing by his fledgeling Aam Aadmi Party in the December 2013 assembly polls that brought the Congress's 15-year rule in Delhi to an end.
Often called the anti-corruption man, the diminutive and bespectacled IITian and former tax official captured the public's fancy with his emphasis on simplicity, honesty and pro-common man politics.
His government was never expected to last long, given its dependence on the Congress in the state assembly for survival. Little wonder, then, at the very first legislative hurdle over the Jan Lokpal Bill, Kejriwal chose to exit the government rather than compromise on his party's core principles.
Today he is back on the streets working up support for his party with an eye on the Lok Sabha elections, and with opinion polls pointing to the AAP's win in a re-election in Delhi, it does seem that Kejriwal's calculations were right.
However, questions remain, both about the AAP's brief stint in government as well its gameplan for the future.
Is the AAP a natural fit for the Opposition space and a misfit in government space? Does it believe in due processes and systems that accompany the democratic setup? Or, does it believe the end justifies the means, even if it means junking the framework within which governments function in a democracy?
In an EXCLUSIVE, Arvind Kejriwal will appear on the Rediff Chat on Tuesday, February 18, 2014, at 11 am IST to answer these and other questions.
Join Arvind Kejriwal on the Rediff Chat!

Enter the Chat Room