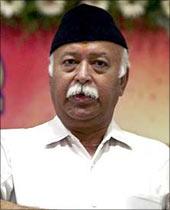 A day after Bharatiya Janata Party President Rajnath Singh's English bashing, Rashtriya Swayamsevak Sangh chief Mohan Bhagwat on Saturday said it is an "illusion" that English is the only means of progress.
"This is an illusion that English is the only means of progress; this is not true," Bhagwat said.
"True education is about developing feeling and dedication for the country," the RSS leader said.
Rajnath Singh had on Friday said that the spread of English had "hurt Indian culture".
"Earning money is not everything. Children should have sanskar (culture) and they should know relationship and love," the RSS chief said.
Bhagwat came down heavily on the prevailing education system which, he said, was not in the country's interest.
"Maximum cases of corruption and irregularities are done by such educated people," Bhagwat said.
"Scoring 90 to 100 per cent marks does not only reflect merit. Children should have participation in all fields. Parents should not create pressure on children for securing 100 per cent marks," Bhagwat said.