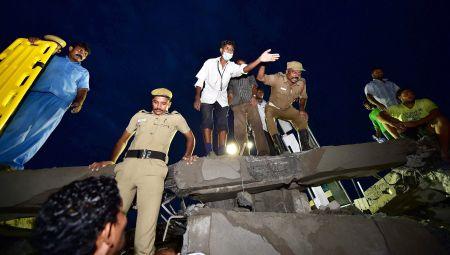 Two persons were killed and nine injured when an 11-storeyed under construction building collapsed near suburban Porur on Saturday with rescue efforts on by multiple agencies, including National Disaster Response Force.
A total of 12 persons were admitted in the nearby Sri Ramachandra Medical University, where the two persons breathed their last, hospital spokesperson P V Nallamuthu said.
One person was in the Intensive Care Unit, he added.
Police also confirmed two men had been killed in the mishap. Earlier, Fire and Rescue Services Joint Director S Vijayasekar had stated that 50 persons were feared trapped in the debris.
Meanwhile, two directors of the construction company which had taken up the housing project were detained for questioning police said, even as Chief Minister Jayalalitha directed officials to initiate legal proceedings against those responsible for the mishap.
The CM had also said that on her directives, NDRF teams had rushed from neighbouring Arakkonam even as multi-agency relief operations are on in full swing and that she had ordered best medical treatment to the injured.
The building collapsed at Moulivakkam in the western suburb, about 20 km from here, as rains lashed the area and several other parts of the city this evening.
Building firm Prime Sristi, which took up the residential project, claimed the mishap occurred due to impact of thunder. "Usually, once the construction gets over we install the equipment to prevent the building from thunder strike. It was nearing completion," Balaguru, Director, Prime Sristi, said.
He said about 50 workers were inside the building during the mishap and there was a heavy downpour at that time. The mishap resulted in heavy traffic jam in the area.
Meanwhile, Tamil Nadu Governor K Rosaiah expressed deep shock over the mishap and wished speedy recovery to the injured. "I am sad that many of the construction workers who are from other states have been trapped in the debris. I wish the injured a speedy recovery," he said in a message.
Image: Rescuers search for survivors in the debris of under construction building which collapsed in Porur near Chennai on Saturday. Photograph: R Senthil Kumar/PTI.