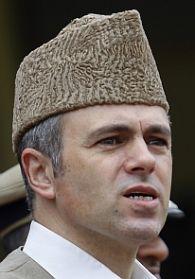 Jammu and Kashmir Chief Minister Omar Abdullah on Sunday condemned the elements who cause communal and sectarian divide and said these 'elements expand their activities as elections draw near'. He said they want to polarise the society, create conflicts between various sections, sects, faiths, regions and castes with an eye on votes.
The chief minister while talking to a delegation constituted by the civil society in the backdrop of the recent sectarian clashes in central Kashmir Budgam district, cautioned people against 'the nefarious designs of these elements'.
Omar assured the delegation of all help in the rehabilitation of the victims of the violent clashes, which left one woman dead and scores others wounded besides damage to properties.
Expressing deep grief over the loss of the human life and damage to the property during the clashes, he asked the delegation to play their important role in nurturing brotherhood, love and affection between various sections of the society. He also asked them to remain vigilant against 'the elements that engineer conflicts out of trivial incidents just for their personal gains'.
The delegation demanded comprehensive rehabilitation for the affected families and help from various departments through their specialised schemes.
They also raised the issue of releasing those who have been arrested while dealing with the situation created in these villages due to sectarian tension and are not involved in any serious act or crime.
Omar said that he would ask the police department to review their cases and release those who are not involved in serious acts and crimes after obtaining assurance from their families that they would not repeat their troublesome and peace disturbing actions.