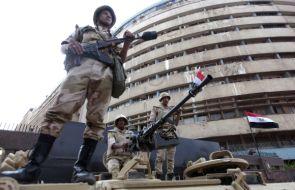 Daring the military-backed government, supporters of deposed Egyptian President Mohammed Morsi have called for a "million person march" tomorrow against his ouster, even as police today arrested two top leaders of an Islamist party in a widening crackdown on protesters.
"We call for a million person march under the banner of 'Martyrs of the Coup' on Tuesday," the Anti-Coup Alliance of Islamist groups organising the protests said in a statement.
Pro-Morsi Wasat Party head Abul Ela Mady and his deputy Essam Sultan were both arrested in Cairo for involvement in killing protesters in recent violence. Both men were arrested on charges of inciting violence, killing protesters and insulting Egypt's judiciary.
In the worst violence seen since 61-year-old Morsi was deposed by the army on July 3, 80 people were killed in clashes with the security forces on Saturday.
However, the Brotherhood's official website said at least 200 people had been killed and some 5,000 wounded.
Mady and Sultan were arrested in the Moqattam district of the Egyptian capital, and were then sent to Aqrab prison, where nine Muslim Brotherhood leaders are being held, state-run MENA news agency reported.
Prosecutors also ordered the arrest of Safwat Hegazy, a preacher known for his ties with the Muslim Brotherhood, on charges of inciting violence, after he led a march from Rabea al-Adaweya sit-in to Nasr Road which degenerated into deadly clashes with security forces.
Meanwhile, as part of international efforts to broker a peace between the two sides, EU foreign policy chief Catherine Ashton arrived here today for talks.
Ashton met a number of Egyptian officials for talks on the current political developments stressing that Egypt's decision is independent with no pressure from any side.
She said that her visit to Egypt is focused on mobilising for a cohesive transitional process that will include all political factions in the country.
Ashton's visit includes meeting with interim president Adly Mansour, Vice-President Mohamed ElBaradei, army chief Abdel Fattah El-Sisi in addition to other members of the interim cabinet and political figures, including members of the Muslim Brotherhood.
A Muslim Brotherhood member told London-based Al-Hayat newspaper that Ashton has requested a meeting with their supreme leader, Mohamed Badie.
Meanwhile, Egypt's presidency said today that it welcomes Muslim Brotherhood members "whose hands are not smeared with blood" for reconciliation as a way out of the current political strife.
Egyptian presidential media adviser Ahmed al-Muslemani said that that "there is no exclusion of any group or faction" stressing that ousted President is not a political detainee.
Egypt's interim president Adly Mansour yesterday issued a powder-keg decree making preparations for a possible "state of emergency," the EGYnews website reported.
He issued a decree granting Prime Minister Hazem El-Beblawi certain presidential powers to use three articles of Emergency.
But, El-Beblawi clearified that the transfer of power from the president to him to declare emergency law does not mean that he will necessarily take such as a meassure.
According to informed sources, the defence and interior ministers, as well as the intelligence chief, informed Mansour of "serious threats of terrorist attacks against state institutions".
Military helicopters dropped leaflets on pro-Morsi protesters in Rabaa al-Adawiya earlier today and appealed to them not to approach military installations and units.
"We call on everyone to cooperate and respond to the instructions of the armed forces personnel in order for the security and stability of the country. No violence. Do not sabotage. No bloodshed," the leaflets read.
In a further warning, the National Defence Council, which includes members of the interim government and the military, warned yesterday of "firm and decisive" action against protesters who go beyond peaceful demonstration.
The moves come a day after Interior Minister Mohamed Ibrahim said he was waiting for the prosecutor general's office to issue orders to disband the pro-Morsi protests.
Muslim Brotherhood supporters today said they staged three marches, including one targeted at the headquarters of military intelligence.
Muslim Brotherhood spokesman Gehad el-Haddaf was quoted by the BBC as saying that there was no intervention by the military and no confrontation.
The Muslim Brotherhood is continuing to demand Morsi's return to office, with a large protest camp outside the eastern Rabaa al-Adawiya mosque and further west near CairoUniversity.
Morsi, who is facing criminal charges in many cases, was last seen in public on June 26 and has been detained along with senior aides of his Muslim Brotherhood party.
The security forces have been accused of using excessive force, but the interior ministry says protesters used firearms.