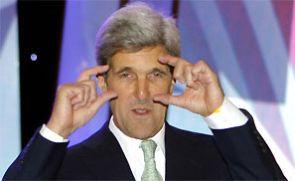 United States Secretary of State John Kerry and Union HRD Minister Dr M M Pallam Raju on Tuesday called for greater cooperation between the two countries in the education and knowledge building sector.
Both leaders addressed a high-level meeting at the Third Indo-US Dialogue on Higher Education in New Delhi.
Kerry, who is in the final-leg of his three-day visit to India, spoke about the current academic scenario and also on the need to tap the progressive prospects.
"There is a great deal that we can yet cooperate on and do better on. We need to make sure that the people of our countries are getting everything out of this partnership," he said.
"We are in the positions of leadership, we have the ability of make choices, to build joint ventures, to do partnerships, to do things that change the outcomes for millions of people and I think that everybody here is here for one simple reason, to underscore that higher education and a commitment to higher education is absolutely essential in this brave new world that we are all living in," he added.
On his part, Raju said that the partnership between the two countries in the field of education provided the opportunity to develop institutions and higher learning research centres.
"Education and knowledge is a key pillar of the India-US strategic partnership. The partnership offers a huge opportunity to use and share the experience and best practices in the development of institutions of higher learning and research, as also building the capacity of global skill sets to our mutual advantage," said Raju.
Kerry further concluded by saying that India and the US are building a strong bilateral relationship.
"This is a very important dialogue. It is the third, so it is growing, we are learning where the important places of emphasis ought to be, we are learning where the challenges are, but there is a great deal we can learn from each other," Kerry added.
This is Kerry's first visit to India after his appointment as the US Secretary of State.
The strategic dialogue is one of the premier mechanisms in the dialogue architecture between India and the United States.