Pushing for a bilateral investment treaty, the US on Monday asked India to remove trade barriers to boost two-way economic ties, while India raised concerns over visa problems faced by its IT companies.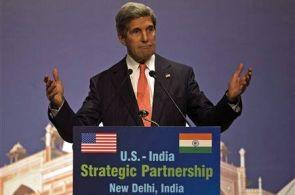 India also reassured the visiting US Secretary of State John Kerry that it would look into the issue of "trade barriers" and said that both the sides would need to keep in mind each-other's concerns to reach a "win-win situation" on trade ties.

"We have issues on trade barriers front and we have been reassured that the Indian government will look into it," Kerry said at his joint press conference with External Affairs Minister Salman Khurshid.

Kerry, who is here as part of a Strategic Dialogue process between India and the US, further said: "There are mutual concerns on both sides and we hope that there will be an increase in two-way trade."

On its part, India raised the concerns over problems
being faced by Indian IT companies with regard to changes in the US regulations for grant of professional visas.
Khurshid said: "We have brought to the Secretary's notice (visa issue) and he has promised he will do whatever he can."
"Both sides have to factor in concerns of both sides to create a win-win situation in trade ties," he said.
Prior to his visit, US companies and lawmakers had urged Kerry to talk tough on policies regarding India's rejection of patent suits against domestic companies manufacturing generic drugs for poor people.
Since 2008, India and the US have been engaged in bilateral investment treaty negotiations and the last round was held in June 2012.
Besides, both sides plan to renew expert-level talks on trade and investment policy issues.
The India-US CEO Forum, at its next meeting on July 12 in Washington, intends to further develop joint initiatives and priorities, and discuss ways to overcome business challenges.
Image
: US Secretary of State John Kerry.