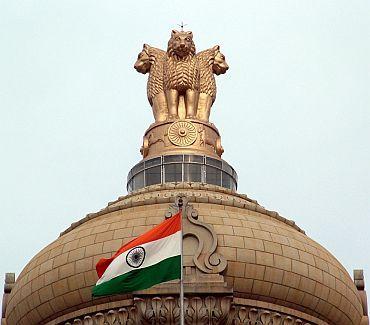 The Election Commission has come out strongly against government's rejection of its long pending proposal for cooling off period for bureaucrats joining any political party, saying such a provision is "more than justified" for ensuring neutrality in conduct of polls and otherwise.
This is the third time, within a period of over one year, that the Commission has written to the government on the issue and sources privy to the development said the EC is "very serious" about the proposal as it wants a "level playing" field before the general elections next year.
The Union law ministry, after getting opinion of Attorney General Goolam E Vahanvati on the EC's proposal, had communicated to the Department of Personnel and Training which subsequently informed the EC sometime back that such a proposal "would not be in harmony of the provisions of the Constitution" and such a step against bureaucrats "may not be appropriate and feasible".
The EC has shot back saying it has asked for a ban on bureaucrats joining political party immediately after leaving service and not on their contesting election.
"Cooling off period for joining a political party has been misconstrued as cooling off period for contesting elections.
"It is clarified that Commission in order to maintain such independence and neutrality had recommended cooling off period for a person on his ceasing to be a government employee, from joining any political party, and not from contesting elections, as the interpretation of the learned AG is related to contesting elections.
"Further, the right to contest an election is a statutory right and not a Fundamental right (as opined by the learned AG).... hence any such restriction in service rules would be quite reasonable and justifiable and certainly will not be in contravention of the provisions laid down under Article 14 of the Constitution of India," the EC said in its recent letter to the DoPT and the Law Ministry and accessed by PTI.