The Delhi Police have recovered Alprax tablets -- an antidepressant -- from the hotel room in which Sunanda Pushkar was found dead. Vicky Nanjappa reports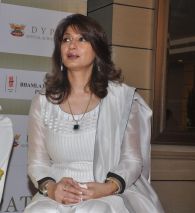 The sudden unnatural death of Sunanda Pushkar, the 52-year-old wife of Union Minister Shashi Tharoor, appears to be a case of a drug overdose.
Alprax, an antidepressant tablet prescribed to those who get panic attacks and suffer from chronic depression, was found in her hotel room. The autopsy report indicates that Sunanda Pushkar had consumed three strips of Alprax.
A Delhi Police source told rediff.com that they have recovered Alprax tablets from the room in which Sunanda was found dead but are awaiting the complete post mortem report which would determine the actual cause of death. They are also examining CCTV footage from the hotel.
Police say there appears to be no foul play at the moment.
"There is a man approaching the room on the third floor but we cannot divulge more at this stage, the Delhi Police officer said.
The doctors who conducted the autopsy on Saturday spoke about injury marks on the wrist and hand. "It does not appear to have been caused intentionally. She has not tried to harm herself, but prima facie it appears that it could have been a result of a squabble," the source said. "We will get a clear picture when we record Shashi Tharoor's statement on Monday," the officer added.
The police, who have been talking to several people close to Tharoor, say that all was not well between the couple. One such spat that came out into the open was at Thiruvananthapuram. Then, it was Tharoor's Congress colleagues who had attempted to patch things up between the couple. Another fight between Sunanda and Tharoor was reported on a flight as recent as January 15.
When the investigator was asked whether this could be a case of abetment to suicide, he said, "It is pretty complicated at the moment and we can pick up the investigation and go further only after we record the statements on Tharoor on Monday."
The statements of Sunanda's son will also be recorded as investigator's want to find out if she had made any calls to him.