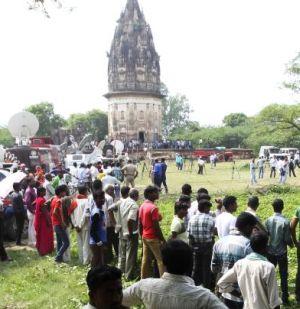 Success of the "dream gold" hunt still remains a "dream" even as excavation for possible 1,000 tonnes of gold at Raja Rao Ram Bux Singh fort in Daundiya Khera village in Unnao continued on the 27th day.
Excavation of one block at the fort has been completed and after 75 per cent completion of the second block, there is still no sign of the gold treasure dreamed by the seer Shobhan Sarkar.
The excavation work, which was started on October 18, is likely to be stopped after digging of the second block is completed if nothing valuable is found.
Sub-Divisional Magistrate Vijay Shanker Dubey said the second block has been dug to a depth of 5.1 metres.
If the first block is taken as the basis, the excavation of second one could be completed on Wednesday, he said.
Archaeological Survey of India Director Syed Jamal Hasan had said the organisation had not carried out the excavation work to recover the treasure.
Jamal had said that ASI carries out excavation work so that centuries-old hidden mysteries could be revealed.
Image: Onlookers stand at the site where the state archaeological survey of India has sent a team of archaeologists to start digging at Daundia Khera village
Photographs: Reuters