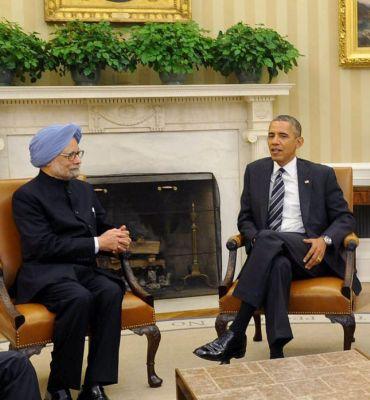 Prime Minister Manmohan Singh on Friday held talks with US President Barack Obama, the first bilateral summit meeting after nearly three years.
Accompanied by External Affairs Minister Salman Khurshid, National Security Advisor Shivshankar Menon, Foreign Secretary Sujata Singh and Ambassador Nirupama Rao, Dr Singh arrived at the White House for delegation-level talks that covered the stalemate in the ties over a civil nuclear deal finalised five years ago.
In the wake of the twin terror attacks near Jammu on Thursday, Dr Singh is believed to have articulated India's concerns over terror emanating from Pakistani soil and the need for Islamabad to rein in elements responsible for the violence.
Trade and other issues, including India's concerns over tight immigration rules in the US that affect IT professionals, also figured in the meeting.

Also See: India-US Summit Special, Edited by Ambassador Nirupama Rao

Image Courtesy: Press Information Bureau