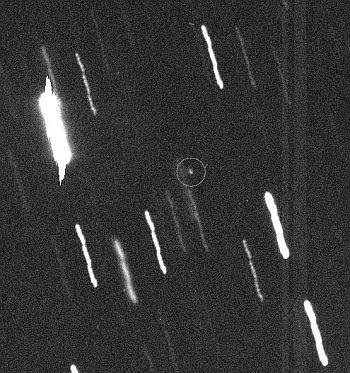 There is some good news and some bad news for doomsday pundits. The chances of asteroid Apophis colliding with Earth in 2036 have been reduced, but a new impact possibility of the same asteroid has come up in the year 2068.
University of Hawaii asteroid hunter Dr David Tholen has made the prediction.
The good news that Tholen came up with is that the estimated probability of asteroid Apophis colliding with Earth in 2036 has been reduced from 1 chance in about 45,000 to 1 chance in about 250,000.
The bad news is that the improved orbit determination for Apophis has revealed a new impact possibility in 2068.
The new estimates are based on an extensive set of observations obtained at Mauna Kea Observatories and analyzed by Tholen, former UH postdoctoral researcher Dr. Fabrizio Bernardi, and current UH graduate students Marco Micheli and Garrett Elliott.
Dr Steve Chesley of the Jet Propulsion Laboratory in California determined the positions of Apophis derived from those observations.
"Our new orbit solution shows that Apophis will miss Earth's surface in 2036 by a scant 20,270 miles, give or take 125 miles," Tholen said.
"That's slightly closer to Earth than most of our communications and weather satellites," he added.
He credits the large telescopes and superb atmospheric conditions on Mauna Kea for being able to make these determinations.
With the possibility of an impact in 2068, Apophis will become the target of even more observations as soon as it reappears from behind the Sun in 2010 and beyond.
"The refined orbital determination further reinforces that Apophis is an asteroid we can look to as an opportunity for exciting science and not something that should be feared," said Don Yeomans, manager of the Near-Earth Object Program Office at JPL.
"The public can follow along as we continue to study Apophis and other near-Earth objects by visiting us on our AsteroidWatch Web site and by following us on the @AsteroidWatch Twitter feed," he added.
Apophis was discovered in 2004 by Tholen, Bernardi, and Roy Tucker of the University of Arizona.
The asteroid became famous about six months later when additional observations indicated an impact probability as high as 1 chance in 37 on April 13, 2029.
Image: Asteroid Apophis was discovered on June 19, 2004
Report: ANI | Photograph credit: UH/IA