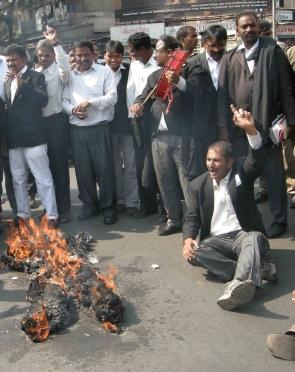 Hyderabad belongs to Telangana and Telangana belongs to India, says K T Rama Rao, Telangana Rashtra Samiti Member of Legislative Assembly from Sricilla.
Rama Rao is the son of TRS chief K Chandrasekara Rao.
As the much-awaited D-day for the formation of Telangana state approaches, Rama Rao tells Rediff.com's Vicky Nanjappa that a couple of issues continue to plague the Bill.
"We have said this numerous times to anyone who has made Hyderabad their home, including all the people from Seema-Andhra. Hyderabad belongs to Telangana and Telangana belongs to India. There is no need to fear or worry.
"It is just a matter of time before the state is formed and we are sure that the Bill will be passed in Parliament in the next two weeks. I would want to make one thing clear. What the assembly witnessed on Thursday was nothing but a drama. They did not vote on the Bill, they voted for a resolution to defeat the Bill. There is a difference. The resolution which was passed by Chief Minister Kiran Kumar Reddy has no sanctity because none of the legislators from Telangana supported it.
"There is no need for anyone in Telangana to worry. I want to tell them that the role of the state assembly is only consultative. This process is now complete and what has transpired has no bearing on the final decision. The decision is made and Telangana is a reality.
"About a tie-up with the Congress, we will explore all the possibilities. Let us wait and see what happens. Discussions will commence once the Lok Sabha elections are notified; let us see when that happens.
"A couple of issues require a debate on the Telangana Bill. We want a couple of amendments to be made when it is tabled before the Parliament. Firstly, we do not want the issue of law and order to be under the jurisdiction of the Union government. The Bill proposes to keep law and order in Hyderabad under the Centre's purview for some time. This infringes on the rights of the elected government. The 29thstate in India should have authority over its own law and order machinery.
"Secondly, the pensioners and employee distribution as per the Bill is on a population basis. We will demand that the distribution should be on the basis of nativity. The Telangana movement was triggered due to the injustice in government employment. If the Bill is passed without this amendment, then it defeats the purpose to a large extent.
"There is no need for anyone in Hyderabad to worry. Do not believe the false propaganda. There is nothing that bars anyone from staying in Hyderabad. We do not want any confusion as we know Hyderabad will be the economic engine that will drive the state of Telangana.
"The problem would be for those who have indulged in illegal activities. If there are people who have had their way in the previous government, bulldozed the mechanism and enjoyed illegal gains, then the next government of Telangana will review it and take action."
Image: Pro-Telangana lawyers burn an effigy of CM Kiran Kumar Reddy in Hyderabad ' Photograph: SnapsIndia