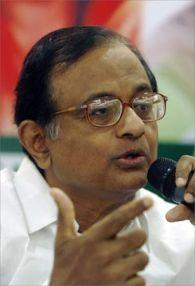 Dismissing the criticism of his interim budget by Narendra Modi, Finance Minister P Chidambaram said, "I don't want to take the level of this debate to a Class 8 school boys' debate."
"What does he mean by a decade of decay? The fact is that we are delivering growth above the trend growth rate. I have pointed out that the growth rate in 1999-2004 was below the trend growth rate."
"In the last 33 years, the last decade (under UPA) has been the best decade for growth. Now these are facts. Now he (Modi) likes fake encounter with facts. I don't think the media should join and repeat his tweets," Chidambaram told PTI in an interview.
He was asked about Modi's reaction to his interim budget on Monday calling it "a final act of misery after a decade of decay."
On Monday, the BJP's prime ministerial candidate had tweeted: "The only solace one gets from the vote-on-account is that this was UPA's final act of misery after a decade of decay and policy paralysis."
When asked about the other comment of Modi that it was "up to the people to decide whether the Economist PM and FM have been 'hard working' or 'hardly working'," Chidambaram shot back, "I don't want to take the level of this debate to a Class 8 boys' debate."
Chidambaram and Modi have been locked in a war of words over economy. The finance minister was critical of Modi's knowledge of economy when he said it can be written on back of postal stamp.
Asked about this comment, the minister said, "What he (Modi) had said on that day betrayed a lack of understanding and therefore I used that phrase about writing on the back of a postage stamp.
"But if he articulates himself, then we can engage him in a debate. If a person refuses to spell out his views on economics what else can you say."
Modi had accused Chidambaram of mishandling economy and taunted him a few days ago saying that high growth rate in Gujarat was because of his hard work and not education in Harvard University.
On Monday Chidambaram hit back at Modi in his Budget speech saying, "My mother and Harvard taught me the value of hard work."
Chidambaram said he does not think that Narendra Modi has been given clean chit by courts in 2002 Gujarat riots. He said the BJP's prime ministerial candidate has steadfastly refused to acknowledge his "moral and political accountability" for them.
He says it was disappointing that Modi was unwilling to "apologise" for the riots. The undercurrent of his cross-country campaign is majoritarianism and Congress will give a befitting reply to it, says Chidambaram.
"No, I don't think so. There are two aspects to what happened in 2002. One is legal culpability. The other is moral and political accountability. On the first, the matter is still in court. A court has accepted an SIT report but that has been challenged in a higher court. But I won't say anything more on that.
"But on the second, I am absolutely clear in my mind that the political and moral accountability rests with the chief minister. He was chief minister for several months when it happened. Yet in the last 12 years, he has refused to acknowledge his moral and political accountability. And what is more disappointing is his unwillingness to even utter the words -- I apologise," he told PTI in an interview.
Chidambaram was asked whether he believed Modi has been finally cleared of all charges by courts in the 2002 riots.
When asked about his reference to majoritarianism in his Budget speech and whether India's multi-religious and diverse society could come under attack from him, the finance minister said, "If Mr Modi defends majoritarianism, we will give him a befitting reply. Majoritarianism is not a way of governance. Majoritarianism is opposed to the democratic way of governance."
To a question whether he saw any change in Modi in his campaign, Chidambaram shot back, "Of course, the undercurrent is majoritarianism. Please read his speeches carefully. The undercurrent is majoritarianism. The unstated premise of his approach is majoritarianism. And more than that is also I, Me and Mine. Has he made a single speech without I, Me, Mine theme running through it."
Asked if Modi has not changed a bit, Chidambaram said he does not read every word of his speech and reads only what is reported in the newspapers.
"From what I gather, I think he is pushing an agenda based on majoritarianism and I, Me and Mine theory," he said.
To a question if Modi was a danger to the idea of India, Chidambaram said, "Nobody can destroy the idea of India, much less Modi. The RSS could not destroy the idea of India. The idea of India will survive. It is too strong an idea to be killed by one political outfit or one political leader."
Asked how he saw Modi as prime minister, the minister said he did not know his views on many matters.
"He has not spoken on many matters. He has never addressed a press conference. I have raised a few questions -- what are his views on fiscal deficit, what is his philosophy on fiscal deficit, revenue deficit. What is his stand on monetary policy.
"Does he believe in GST because I know Madhya Pradesh and Gujarat were the ones who had opposed the GST. Does he support the reforms of direct taxes. Will he support the DTC," he said.
These are question, Chidambaram said, that Modi should answer. And there will be more questions as the days go by.
"Because if you are a prime ministerial candidate, you must articulate your position on a number of matters clearly and cogently. You can't get away with one-liners," he said.