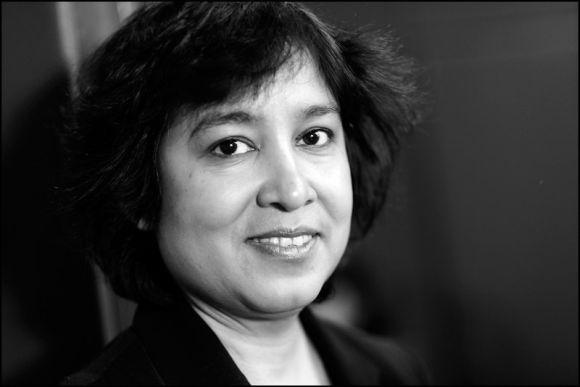 In a relief to controversial Bangladeshi author Taslima Nasrin, the Supreme Court on Tuesday asked the Uttar Pradesh police not to take any coercive action against her in connection with a first information report lodged by Muslim cleric Maulana Tauqeer Raza Khan alleging that her Twitter posts insulted "religious" beliefs.
"Issue notice. In the meantime, no coercive action be taken," a bench headed by Justice B S Chauhan said after brief arguments advanced by senior advocate K K Venugopal on behalf of the author that the issue pertains to human rights and her interest be safeguarded.
Seeking response from UP administration, the bench, however, made it clear that so far as the quashing of the FIR is concerned, this plea cannot be entertained at this stage.
It also said that the plea seeking scrapping of Section 66A of the Information Technology (IT) Act can be clubbed with other similar pleas which are pending hearing in the apex court.
Section 66 (A) of the IT Act provides for arrest of a person hurting the sentiments of others through offensive remarks or information through electronic media, including social networking sites.
During the hearing, Taslima's advocate said that an FIR has been lodged without any preliminary enquiry by the UP police on a complaint based on a news report.
"The FIR has been lodged by a person who has issued a fatwa, putting Rs five lakhs as bounty on my head," he said. Referring to the contents of the FIR, he said her Twitter posts were related to the meeting of Aam Aadmi Party convenor Arvind Kejriwal with Khan for seeking support of Muslims in the elections.
"Why did he (Kejriwal) go to a person who had issued a fatwa against me for seeking support. He did not go to common Muslims," the counsel said.
The court, which said it may consider any plea seeking transfer of the case outside Uttar Pradesh, has now fixed the matter for further hearing in the second week of January.