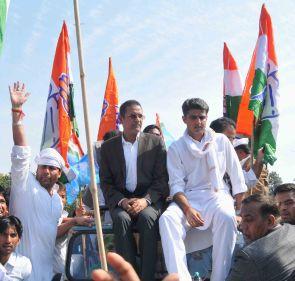 The Rajasthan Congress led by its state president Sachin Pilot on Thursday held a Chetna Rally against "anti-people" policies of the Vasundhara Raje led Bharatiya Janata Party Rajasthan government.
After returning to power, Raje had said that the metro rail and refinery projects are financially not viable so they may discontinue it. It has been said that two major welfare schemes of former chief minister Ashok Gehlot's government -- free medicine and pension schemes -- may also be scrapped by the Raje government.
It was Union Minister for Corporate Affairs Sachin Pilot's first rally since being appointed president of the Rajasthan Pradesh Congress Committee.
However, a day before the scheduled rally Raje announced that her government would not scrap the previous governments' projects.
In a press conference before the rally Pilot said, "Now, they are saying they will not close the projects but such announcements should not come only in view of the Lok Sabha election. We want it for five years, as all these projects would benefit the common man."
Significantly, it was also the day of budget for Rajasthan government. Raje, who holds the finance portfolio, presented the interim budget in state assembly.
The rally led by state President and Leader of Opposition Rameshwar Dudi started from RPCC office and reached the state assembly while Congressmen holding placards raised slogans like, "Ye kaisa kamal khila, janta ke sapne diye jala" (what kind of lotus blossomed, the dream of the public has been destroyed).
Former chief minister Ashok Gehlot and union minister CP Joshi who were expected to participate in the rally did not turn up.
Political observers believe that apart from awakening the government, the rally was also held to awaken Congress workers who are dejected since the loss in the assembly elections.
Image: Sachin Pilot at the Chetna Rally Photograph: Chandra Mohan Aloria