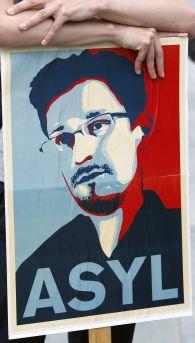 Insisting that Edward Snowden is facing charges on espionage, the Obama administration on Friday asked Russia to return the fugitive leaker to the US and not to give him a "propaganda platform".
Snowden, who is stranded at the Moscow airport for more than two weeks, on Friday said he would prefer to seek asylum in Russia.
"Our position on Mr Snowden is that there are felony charges against him and our belief that he ought to be returned to the United States to face those felony charges is as it was. We have communicated it to a variety of countries, including Russia," White House Press Secretary Jay Carney told reporters at his daily news conference.
"I would simply say that providing a propaganda platform for Snowden runs counter to the Russian government's previous declarations of Russia's neutrality and that they have no control over his presence in the airport. It's also incompatible with Russian assurances that they do not want Mr Snowden to further damage US interests," he said.
"But having said that our position also remains that we don't believe this should and we don't want it to do harm to our important relationship with Russia, and we continue to discuss with Russia our strongly-held view that there is an absolute legal justification for him to be expelled, for him to be returned to the United States to face the charges that have been brought against him for the unauthorised leaking of classified information," he said.
Carney said the US does not believes that this issue should do harm to the relations between Russia and the US.
"We are working with the Russians and have made clear to the Russians our views about the fact that Mr Snowden has been charged with very serious crimes and that he should be returned to the United States, where he will be granted full due process and every right available to him as a United States citizen facing our justice system under the Constitution," he said.
US President Barack Obama was scheduled to call his Russian counterpart Vladimir Putin, he said, adding he expects this issue to come up.
"We've had conversations with Russian officials at a variety of high levels. The president actually does have a call scheduled with President Putin for later today. That is a call that has been on the books for several days. So he will have that conversation," he said.
Carney said during the just concluded US-China Strategic and Economic Dialogue, the US made it clear to the Chinese officials that their handling of the Snowden affair was not consistent with the relationship between the two countries.
"At the US-China Strategic and Economic Dialogue this week we made clear that China's handling of this case was not consistent with the spirit of Sunnylands or with the type of relationship, the new model, that we both seek to build," he said.
"The president also expressed his disappointment and concern with China's handling of the Snowden case in this meeting yesterday with the S&ED co-chairs," he added.
The issue was raised by Deputy Secretary William Burns, he said.
"We were very disappointed with how the authorities in Beijing and Hong Kong handled the Snowden case, which undermined our effort to build the trust needed to manage difficult issues," Carney said.
Image: A Snowden supporter holds a banner during a demonstration in Berlin.
Photograph: Tobias Schwarz/Reuters