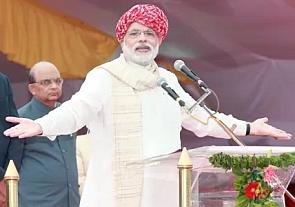 Bharatiya Janata Party Election Campaign Committee chief Narendra Modi on Saturday asked party spokespersons and panelists to take on the Congress in media debates only after conducting in-depth and comprehensive research.
A media workshop held in Delhi to educate party spokespersons, panelists and media cell office-bearers from across the country was addressed by Modi, BJP President Rajnath Singh, Leader of the Opposition in Lok Sabha Sushma Swaraj and her Rajya Sabha counterpart Arun Jaitley, among others.
Modi, who was the star speaker at the conclave, asked party spokespersons and panelists to prepare comprehensively, talk to experts and go through material on the internet before they argue on behalf of the party on an issue.
The BJP's Election Campaign Committee chief said the media was influenced in a big way by activities and opinion building on social media.
Sources said Modi pointed out that the editors and reporters of various newspapers today toe this line and hence there is a need to have a presence there.
He also cautioned that several news channels invite experts who have leanings towards the Congress and this tilts the balance in favour of the ruling party.
This can only be countered by in-depth research by BJP spokespersons who participate on behalf of the party in such programmes, he said.
"Do proper research and only then face the cameras. Be comprehensive in your criticism of the ruling party so that it is properly conveyed to the voters. Participate only in debates on issues on which you are well-versed and have a hold," Modi reportedly said.
Rajnath Singh asked the party leaders to visit a TV studio only when they were aware about the issue to be discussed, not just because they had been invited. Party panelists should not say anything objectionable and later try to justify by saying they were reacting to a question posed to them, he added.
The main opposition, which is plagued often by bad press due to its leaders speaking in differing voices, was advised by Modi not to allow political opponents and the media to corner them on the grounds that the rules of accountability are more stringent for it.
There was a fair sprinkling of "don'ts" for the party spokespersons and panelists.
"They have been asked not to lower the level of the debate or make personal attacks, as is being done by the Congress. They should avoid turning arguments into a war of words on news channel debates. They should also not speak the moment a television mike is thrust towards them," a party leader said.
Swaraj, who inaugurated the workshop, said party leaders should exercise caution while hitting out at the Congress as "words once spoken cannot be taken back", party sources said.
She emphasised on the need for the spokespersons and panelists to speak in one voice and maintain decorum while firmly rubbishing arguments of political adversaries.
Swaraj and Jaitley emphasised on targeting the Congress on issues like corruption, state of the economy, internal security and mal-governance, among other issues.
Speaking informally to party spokespersons, Jaitley expressed dissatisfaction at the manner in which the party had tackled the Congress' charges against Gujarat Chief Minister Narendra Modi after his Independence Day speech.
Jaitley said Union Minister Ghulam Nabi Azad had used "derogatory" words against Modi which should have been countered strongly but decently.
He said there is a need to take on the Congress in a more aggressive fashion without abandoning decorum.
Both Modi and Jaitley underlined the need for setting the agenda in the media and public debates.
Deputy Leader of BJP in Rajya Sabha Ravi Shankar Prasad cited the example of the Kandahar hijack crisis to argue that party spokespersons should go well-prepared for debates on channels.
He said research on the issue shows that the BJP-led National Democratic Alliance government agreed to hand over three terrorists as relatives of the hostages of the Indian Airlines flight were pleading with the government and political parties had given their consent at an all-party meeting.