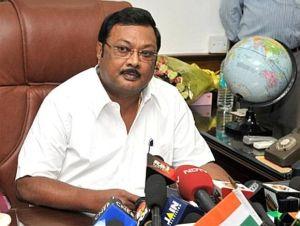 After much acrimony and suspense over his next course of action, suspended Dravida Munnetra Kazhagam leader M K Alagiri on Thursday offered an olive branch to the party high command, saying he was ready for talks.
Asked about the reported possibility of conciliatory talks with the top leadership, the southern strongman demanded that the suspension of his loyalists should be revoked first.
So far, 10 functionaries, including former Madurai deputy mayor P M Mannan who belongs to Alagiri's camp, have been suspended.
"Not only that, they should look into my complaint on irregularities in intra-party elections," said DMK chief Karunanidi's son, who celebrated his 63rd birthday today.
Asked whether he would be ready for talks if the party came forward to fulfill these demands, he said, "Yes".
Soon after his suspension, Alagiri had said he would "speak his mind" on his birthday after holding consultations with his supporters.
Karunanidhi had alleged that Alagiri had said that party treasurer "M K Stalin would die in three months".
Meanwhile, the birthday celebrations of Alagiri, who turned 63 today, turned into a complete show of strength. The celebrations that began early in the morning in Madurai saw a steady stream of supporters lining up in front of his house, many from several far-flung towns like Theni and Dindigul.
Party Members of Parliament D Napoleon, K P Ramalingam and J K Ritheesh called on Alagiri expressing solidarity.
The temple city was awash with colourful posters and festoons hailing the "hero of justice".
His loyalists gave him a rousing welcome at every important junction.