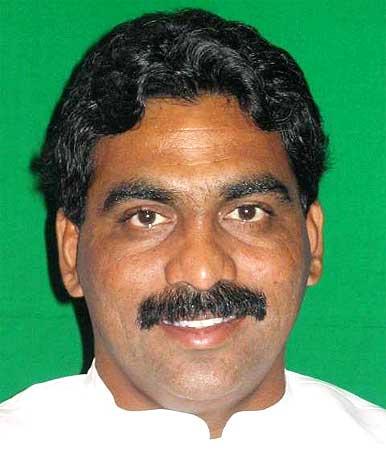 Lagadapati Rajagopal, now being referred to as the 'pepper spray member of Parliament', is holding talks with Andhra Pradesh's caretaker Chief Minister Nallari Kiran Kumar Reddy about floating a new political party.
Both Reddy and Rajagopal have revolted against the Congress high command, protesting against the bifurcation of Andhra Pradesh. Last week, Reddy quit as chief minister, as well as from the Congress, while Rajagopal resigned as MP.
Both resignations have been accepted.
Earlier, Rajagopal had said he would quit politics if Parliament passed the Andhra Pradesh Reorganisation Bill, 2013, which provided for the creation of a new state of Telangana.
"I'm hurt, as Telugu-speaking people are divided now. It is a sad day. I have lost interest in politics," he had reportedly told the Press Trust of India last week, after the Lok Sabha had passed the Bill.
But back in Hyderabad, he now seems to be involved in motivating Reddy to form a political party. All efforts to talk to Rajagopal in this regard proved futile.
Rajagopal, Andhra Pradesh's richest politician, with assets worth Rs 299 crore, has always displayed a penchant for drama. Much before he sprayed pepper in the well of the Lok Sabha, the politician had earned the ire of pro-Telangana outfits when he staged a fake fast-unto-death in Vijayawada in 2009.
At that time, when he was about to be arrested, he made a disappearing act from Vijayawada and a dramatic entry into a government super-specialty hospital in Hyderabad. Then exercise was seen as an attempt to mock Telangana Rashtra Samithi president K Chandrasekhar Rao, who had gone on an indefinite hunger strike.
Since then, Rajagopal has emerged as the champion of the cause of a united Andhra. His critics, particularly TRS activists, allege his opposition to the state's bifurcation is linked to his business interests. He has huge investments in Hyderabad and its surrounding areas, which will be at risk if Telangana is separated, they say. Rajagopal denies this.
Before entering politics in 2002, Rajagopal headed the Lanco group, involved in infrastructure, power, real estate, etc. During the peak of the pro-Telangana agitation, the company shifted its headquarters from Hyderabad to Gurgaon in Haryana.
In Andhra Pradesh, while the group's ferro-alloy unit and gas-based power plants are located in Andhra and Rayalaseema (together called Seema-Andhra), it has chosen 100 acres in Hyderabad for its landmark Rs 5,500-crore Lanco Hills integrated township project.
For 2012-13, the Lanco group recorded a turnover of Rs 13,738 crore and a loss of Rs 1,073 crore. Its loss increased to Rs 1,689.59 crore in the first nine months of this financial year. As on December 31, 2013, its net debt stood at Rs 36,081 crore. Last quarter, the company's proposal to restructure its debt was said to have received approval.
In 1985, Rajagopal, a mechanical engineer, was inducted into the family's construction business. He was married to the daughter of former minister P Upendra in 1986.
In 1991, he diversified the group's businesses into manufacturing by setting up a 90,000-tonnes-a year pig iron plant. And, in 1995, Lanco entered the power sector with a 368-Mw gas-based power plant in Kondapalli, near Vijayawada.
On the founding fathers of the Lanco group, the company's website says they have "succeeded beyond imagination".
Today, however, both Rajagopal and Lanco are at a crossroads. While Lanco is bogged by mounting debt, Rajagopal is fighting for his political survival. Whether the two-time MP from Vijayawada retains his seat in the coming polls remains to be seen.