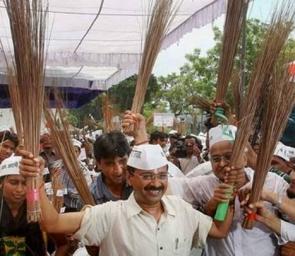 Reflecting the unease in sections of the Congress over its support to the Aam Aadmi Party to form the government in Delhi, senior party leader Janardan Dwivedi on Tuesday said there was an opinion in the party that the decision to support the AAP was perhaps not correct and it should have instead raised people's issues as an opposition.
Dwivedi's remarks came on a day when Congress workers are protesting the party's decision to support Arvind Kejriwal's bid to form the government. Ever since the AAP decided to form government Congress leaders have been repeatedly emphasising that their support to AAP is not unconditional.
Talking to reporters about the conflicting opinions in the Congress over the issue, Dwivedi said, "There is also an opinion that perhaps the decision to support the AAP in this manner was not correct. Some people feel this."
"Their argument is that Delhi voters have not given their support to the Congress to the extent that the party could win only eight seats and it has not even got the post of Leader of the Opposition. Perhaps, it would have been appropriate that we would have left it to others to form the government whoever wanted it."
In this condition, he said, we would have played the role of the opposition and continued to raise the issues of people like a responsible opposition.
Maintaining that the Congress government in Delhi in last 15 years changed the face of the city, Dwivedi said, "Despite this voters did not accept us...It was not our duty...whether somebody forms the government or not."
The Congress general secretary, whose voice matters in the party, at the same time said, "Since now a proposal (to support the AAP) has already been made, we have to carry on with that as well. Perhaps we will have to find out a middle path." He parried a question whether the Congress could withdraw support to the AAP later, saying the party does not follow an extremist approach.
Scores of Congress supporters had held a demonstration outside the Delhi Pradesh Congress Committee office in protest against the party's decision to extend outside support to the AAP as it looks to form the government in Delhi.