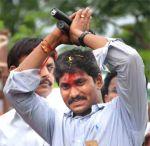 Jailed YSR Congress leader Y S Jaganmohan Reddy on Friday moved a bail application in a special Central Bureau of Investigation court in Hyderabad in connection with a disproportionate assets case against him.
The Kadapa MP, presently under judicial remand and lodged in the Chanchalguda Central Prison here since his arrest on May 27 by the CBI on corruption charges, filed two separate petitions in the court seeking bail.
This is the second bail plea of Jagan in the CBI court after it had earlier dismissed the bail plea on June 1, on the ground that he (being an MP and president of a political party) was in the position to tamper with evidence and influence the witnesses.
The Supreme Court too on October 5 dismissed Jagan's bail plea in the alleged multi-crore disproportionate assets case against him.
A bench of justices Aftab Alam and Ranjana Prakash Desai ruled that Jagan can apply for bail only after the CBI completes its investigation in all the seven other cases lodged against him.
The CBI has accused Jagan of getting huge investments from various individuals and firms into his businesses as quid-pro-quo for the favours granted by government when his father (late Y S Rajasekhara Reddy) was the Andhra Pradesh chief minister.
In the bail petitions filed through his counsel, Jagan contended that it was his right under section 167(2) CrPC for grant of bail in relation to all offences in the case registered against him where probe has not been completed within the specified period of 90 days from the date of his arrest.
He further alleged that discriminatory arrests have been affected by the CBI, as Andhra Pradesh Minister Dharmana Prasada Raom (accused no.6 in the case) has not been arrested and continues to be at liberty though it is specifically alleged that he was instrumental in the commission of the offence.
In his bail plea, Jagan said he has fully cooperated with the investigation so far and he will make himself available before the CBI as and when required.
Jagan further said he is law abiding and respectable citizen and also undertakes that he will not directly or indirectly make any inducement, threat or promise to any person acquainted with the facts of the case so as to dissuade him from disclosing such facts to the Court or any police officer.