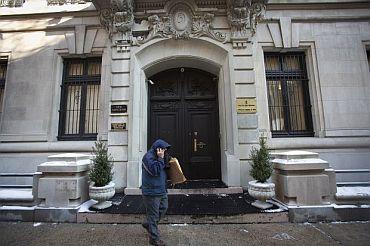 Secretary of State John Kerry plans to call his Indian counterpart Salman Khurshid soon as the ties between two sides are too important to be derailed by an "isolated incident" of the arrest of a diplomat, the US State Department has said.
The US has not received any request from India on the transfer of 39-year-old Devyani Khobragade to the Permanent Mission of India to the United Nations, State Department spokesperson Jen Psaki said.

This is expected to provide Khobragade with the necessary diplomatic immunity even as the court cases would continue in New York.
A 1999-batch IFS officer, Khobragade was arrested on December 12 on visa fraud charges as she was dropping her daughter to school and released on a $250,000 bond after pleading not guilty in court.
The ill-treatment of its diplomat evoked a sharp reaction from India which initiated a slew of steps to downgrade the privileges enjoyed by the US diplomats and their families including withdrawing airport passes and stopping import clearances.
Psaki said India-US relationship is "too important to be derailed by this isolated incident."
Citing the growing trade and economic ties between the two countries and deepening of strategic partnership, she said that officials from two countries are working to move forward.
"We certainly, fully agree that it's important to preserve and protect our partnership. It's not just about diplomatic ties. We have over USD 90 billion in bilateral trades that we -- supporting thousands of jobs in both of our countries," she said, referring to a statement made by Khurshid in New Delhi.
"We share very close counter-terrorism cooperation. We are engaged with India of course, on a range of issues, including Afghanistan, which is often a hot topic in here," she said.

"I think it's accurate to say that our law enforcement authorities and the government of industry have some different interpretations of the issues and allegations at play," she conceded.

"This is now a legal case. And, of course, the State Department doesn't have jurisdiction over that. And we have been clear about our standing -- our position of certainly standing with our judicial colleagues," she said.

"We're in close contact. And we want to move beyond this, and I think we all recognise the importance of our long-term relationship," Psaki said.

Image: A man walks past the Indian Consulate in New York
Photograph: Reuters