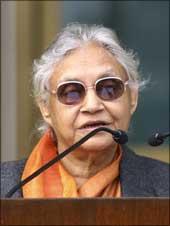 As protests erupted over the gang rape of a 23-year-old, the Delhi government on Thursday announced a raft of measures including setting up of a round-the-clock control room for women in distress and proposing a stringent law to check crime against them.
Briefing about the measures, Chief Minister Sheila Dikshit said the government plans to bring a stringent law to curb sexual assault on women and requested Additional Solicitor General Indira Jaisingh to prepare a draft bill.
Dikshit, who has also come under attack following the ghastly assult on the girl in New Delhi on Sunday, said all stakeholders would be consulted before finalising the proposed legislation.
"I think it will go a long way in containing crime against women. We will consult all stakeholders before finalising the draft law," she said.
The measures were finalised by the city government based on suggestion put forth by the representatives of Delhi Commission for Women and various other organisations at a meeting called by Dikshit on Wednesday, which was attended by top brass of the Delhi police including its commissioner Neeraj Kumar.
Vice Chancellor of Delhi University Dinesh Singh, Planning Commission member Syeeda Hamid, Chairperson-designate of FICCI Naina Kidwai and former NCW chairperson Mohini Giri were also present at the meeting.
Dikshit said the round-the-clock control room for women in distress will function from her office at Delhi Secretariat and will have dedicated phone number. The control room will be commissioned within next 10 days.


The chief minister said a massive public awareness campaign will be launched soon on safeguarding the dignity and safety of women in the city. DCW will act as a nodal agency for the campaign in which citizen groups, RWAs, corporate houses and Mahila Panchayats would be involved.
The city government has also decided to utilise the services of National Social Services at university level to bring about awareness on women's safety. Dikshit said there was a need to inspire the police to become more responsive and serious in dealing with crime against the fair sex.
"It was also observed (at the meeting) that it is time to turn outrage into action," she said.
The chief minister said there is was need to inform the people about laid down protocol need to be followed by the police in dealing with incidents of assult on women and the government plans to publicise these protocols which included registration of a first information reports and a follow up investigation.
The protocol would also be made available on the government website apart from in the offices of the district administration.
During the interaction on Wednesday, a number of suggestions were submitted which included giving self-defence training to women, increasing number of PCR vans, taking concrete measures to improve percentage of conviction of the guilty, deployment of women staff in police stations and monitoring and evaluation of court judgements.