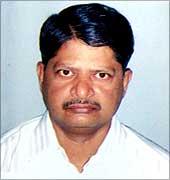 A day after his abrupt transfer, a senior police officer, who could be questioned in connection with the murder of veteran journalist J Dey, said that he was being falsely implicated in the case and the allegations against him were absurd.
"The allegations against me in the case (Dey's killing) are absurd and wrong. I have nothing to do with the case. I hope the investigating officials would be able to detect the case early and catch the culprits soon to clear the air," Assistant Police Commissioner Anil Mahabole told medicpersons at his residence in south Mumbai on Tuesday. He also denied media reports linking him with the underworld.
"The media is being fed by some people, who are trying to falsely implicate me in Dey's case," he said. When asked who they were, he replied, "I do not know. You find out." He said he had a very cordial relation with Dey, whom he met two to three years ago.
Mahabole was on Monday abruptly shunted to Local Arms Control Room in suburban Naigaon from the in-charge post of Azad Maidan division in south Mumbai. "I have no idea about my transfer. I am on a leave for three days. After I resume duty, I will do whatever job I would be given. If I feel that injustice was meted out to me through the transfer, I would request my seniors to look into my transfer once again," he said.
When asked whether he was questioned by Crime Branch in connection with Dey's murder, the ACP said, "So far nobody has come to me. If they want to come, they are most welcome."      
Mahabole said that he was disturbed following the allegations of his role in Dey's killing, adding, "in fact, my family is more disturbed than me."
A senior crime branch officer on Monday had said if required, Mahabole, against whom Dey had written some articles in the tabloid MiD DAY, may be questioned.
On the transfer of Mahabole, another senior Indian Police Service officer had said, "Mahabole has a number of pending inquiries against him and we wanted a free and fair probe against him. That's why he has been transferred. His transfer has nothing to do Dey's killing."
Dey, who had extensively covered underworld and crime for over two decades was shot dead on Saturday by four unidentified bike-borne persons in suburban Powai.

Image: Assistant Police Commissioner Anil Mahabole