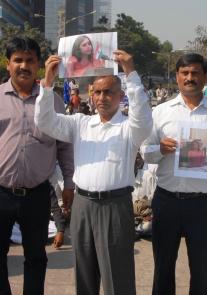 Even as efforts are underway for resolution of the row involving Indian diplomat Devyani Khobragade, her father on Tuesday led a protest march outside the American consulate in Mumbai, terming the United States administration's action against her as "illegal".
"It is admitted even by the US administration that Devyani's arrest was illegal. There were no charges against her," Uttam Khobragade, a former Indian Administration Service officer, told media persons.
"The charges were absolutely false. The government of India has established with documentary evidence that her arrest was illegal," Khobragade said.
He described her arrest on the road as "nothing less than kidnapping" and "insult to India and attack on the country's sovereignty".
The development came close on the heels of the US saying it wanted to resolve the "ordeal" as soon as possible. "As I've said, many, many times throughout this whole ordeal, that we don't want this to define our relationship going forward and don't think that it will," US State Department Deputy Spokesperson, Marie Harf, said.
The protest by the diplomat's father followed her move seeking a one-month extension of the deadline for charging her in the visa fraud case which has been opposed by the prosecution.
Devyani has requested for the extension of the January 13 indictment deadline, saying the "pressure of the impending" deadline is interfering with the ability of the parties to have meaningful discussions.
Image: Uttam Khobragade outside the US consulate in Mumbai
Photographer: Sahil Salvi