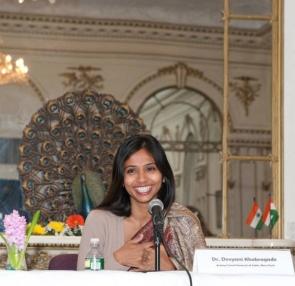 Indian diplomat Devyani Khobragade has been exempted by a United States court from appearing in person for pre-trial processes in the case filed against her on visa fraud charges, her lawyer said on Monday.
The order, related to a technical procedure, was issued on Friday. It means that the former deputy consul general does not have to appear in person every week or be personally present for pre-trial processes, lawyer Daniel Arshack said.
"It only means that she is not required to appear on a weekly basis at the pre-trial services offices. It was a fairly innocuous change and we are grateful that the prosecution and the court agreed to it," he told PTI.
"But that change does not relate to anything having to do with the merits of the case."
Arshack expressed hope that the US and Indian governments will soon resolve the issue, which has snowballed into a major diplomatic row between the two countries. "My hope and expectation is that there will be a resolution between the Indian and US governments on the issue," he said. He hoped such a resolution would come soon.
Arshack said seeking an exemption for Khobragade for the pre-trial process was the only request made to the court. Even as media reports from India spoke of a hearing scheduled for Monday, Arshack cleared the air by saying that no proceedings were expected before January 13.
"There was never a hearing scheduled today, there is nothing scheduled for court till January 13," he said. He said he did not expect anything significant to happen even at the hearing on January 13 and there was a "strong chance" that it too would be postponed.
Arshack further said he did not have any information on whether Khobragade has got her United Nations accreditation following her transfer to India's permanent mission to the world body.
Khobragade was arrested on December 12 on charges of making false declarations in a visa application for her maid Sangeeta Richard. She was released on a $250,000 bond after being charged with visa fraud.
Subsequent revelations that she was strip searched and held with criminals triggered a row between the two sides.