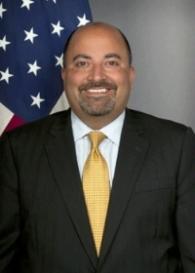 Atul Keshap, a senior Indian American career diplomat and one of the rising stars in the United States foreign service, has been picked by Nisha Desai Biswal, the newly appointed assistant secretary of state for South and Central Asian affairs, to be her deputy.

Keshap, till recently the senior state department official for Asia Pacific Economic Cooperation, will replace Alyssa Ayres as the new deputy assistant secretary of state for South Asia in the bureau. Number 3 in the bureau, he will be preceded by Ambassador Richard Hoagland, also a career diplomat, who will be the new principal deputy assistant secretary of state for south and central Asian affairs. Hoagland till recently was the deputy chief of mission at the US embassy in Islamabad.
Keshap told rediff.com that he was "thrilled" to be part of Biswal's team and "to return to the bureau" in which he served till 2012, his last posting being the director of the office of India, Nepal, Sri Lanka, Bangladesh, Maldives and Bhutan, under Blake. In his new incarnation, Keshap will work closely with Biswal to coordinate US policy toward India, Bangladesh, Sri Lanka, Nepal, Maldives and Bhutan and essentially doing what he did as the head of the office for India and these other South Asian countries. But now he will have the elevated title of Deputy Assistant Secretary of State.
When he served as the senior official for Asia-Pacific Economic Cooperation -- a trade body whose members generate 55 per cent of global GDP -- he was responsible for US policy initiatives during the Russia and Indonesia host years.
From 2008 to 2010, Keshap was the director of the office of human rights, humanitarian, and social affairs in the bureau of international organisations of the State Department and in that capacity, he helped lead US efforts to frame multilateral human rights policy with regard to the United Nations system, including instructions to US delegations to the human rights council and the UN General Assembly.
He was posted as deputy minister counselor for political affairs at the US embassy in New Delhi, India from 2005 to 2008, where he served as one of Ambassador David Mulford's principal advisors on the US-India civilian nuclear energy cooperation initiative, and also worked to implement the broader strategic partnership with India at all levels in close coordination with the Indian government while managing a large political reporting and outreach team.
From 2003-2004, Keshap served as director for North African and Middle Eastern regional affairs at the National Security Council staff in the executive office of the president. While there, he was responsible for recommendations to the president and national security advisor on policy formulation for five countries in North Africa. He also helped implement the landmark breakthrough in relations with Libya, and helped complete negotiations on the US-Morocco Free Trade Agreement.
Other assignments in Washington included, special assistant for the Middle East, North Africa, and South Asia for the under secretary of state for political affairs, where he managed ambassador Marc Grossman's engagement with 25 countries in the Middle East, North Africa, Arabian Peninsula, and South Asia.
As the country desk officer for the United Arab Emirates and Qatar from 2000-2002, he contributed to efforts to secure much-needed basing rights following September 11 attacks.
Keshap has also served as an operations officer on the executive staff of secretary of state Madeleine Albright, and as a political and economic officer at US embassies in Rabat, Morocco and Conakry, Guinea. He is the recipient of several department of state individual superior and meritorious honour awards, as well as a certificate of recognition from then Secretary of State Colin Powell for duties performed in the State Department operations centre on September 11, 2001 and afterwards.
Originally from Charlottesville, Virginia, Keshap has also lived in Nigeria, Lesotho, Afghanistan, Zambia, and Austria. He is a graduate of the University of Virginia, where he received his bachelor's and master's degrees and majored in economics, international relations, diplomacy, and religious studies, as well as French.
He is married to Karen Young Keshap, also a career foreign service officer currently serving as chief of staff to the director general of the US foreign service.
Keshap has a working proficiency in French and speaks conversational Hindi and some Vietnamese.

Image: Atul Keshap, a senior Indian American career diplomat