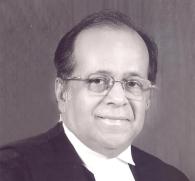 Troubles grew for the beleaguered former Supreme Court judge Justice Asok Ganguly with a non-governmental organisation on Wednesday moving the police seeking action against him in the alleged sexual harassment of a law intern even as he denied reports of fresh allegations that have appeared in the media.
The Trinamool Congress, which has been gunning for Justice Ganguly, stepped up its attack and demanded his resignation as West Bengal Human Rights Commission Chairmam as fresh reports appeared in the media over his alleged misbehaviour with the intern, a charge the judge has again denied today.
Supreme Court sources in Delhi said that the three-judge committee's report was under consideration but refused to say anything about the details of the report.
A local NGO -- Bharat Bachao Sangstan – on Wednesday submitted a memorandum to the Hare Street police station demanding legal action and filing of a first information report against Ganguly, who has been accused of misbehaving and making sexual advances to a law intern in a five-star hotel in December last year.
"Necessary police action as per law, when such a serious complaint has been raised, should be taken immediately," Vineet Ruia President of the NGO, which had recently staged a protest outside the office of the WBHRC, told media persons.
"He, being a man of position, can influence witnesses and the process of investigation. So we think that he should immediately step down from his post of chairman of the WBHRC," Ruia said.
Deputy Commissioner of Police (Central) D P Singh said "We have received a letter from them (NGO)." On his part, the judge, who demitted office as apex court judge in February last year, denied the allegations of the intern that he had made advances towards despite her clear disapproval.
"I have already denied the allegations. What more will I say," Ganguly told PTI when asked a report in a national daily recounting what the intern had told the three-judge committee of the Supreme Court.
Asked whether whether he had seen the report in the daily, he said "Yes, I have seen. I deny the allegations." Justice Ganguly refused to say anything on his future strategy.
Meanwhile, Trinamool Congress Member of Parliament and party spokesperson Derek O'Brien demanded Ganguly's resignation as the WBHRC chairman in the wake of allegation of sexual harassment by a woman law intern.
"The TMC has noted with anxiousness and concern the charges of sexual harassment against Ganguly," O'Brien, TMC parliamentary party chief whip in Rajya Sabha, said.
He said it was for people in senior positions in public life to act as role models and not just in upholding the standard of conducts with female colleagues but also in responding expeditiously and with sensitivity when they themselves face charges of this nature.
"As such, it would be wholly incumbent upon Ganguly to step down from his position as chairman of WBHRC and restore the sanctity of the office he currently holds.
"Public propriety and sense of decency demand this. I therefore urge Ganguly to resign as chairman of the WBHRC," he said.