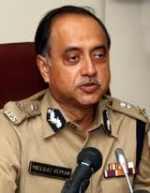 The Delhi police chief was on Friday quizzed for the third time by a Parliamentary panel in the student gang-rape case where he blamed shortage of personnel and patrolling vehicles for impeding policing.
Delhi Police Commissioner Neeraj Kumar, who has been facing the heat following the horrific December 16 incident that has outraged the nation, batted for fast tracking of court cases in such matters while deposing before Parliament's Standing Committee on Home Affairs, which also received the Criminal Law Amendment Bill on Friday.
Kumar and other senior officials informed the panel about the developments in the gang-rape case.
Sources said Kumar pointed out to the panel there is a shortage of police personnel in Delhi and an urgent need to fill the vacancies. He also told the Committee that 370 old PCR vans which were removed have not been replaced due to an austerity measure carried out by the Centre which has seriously hampered patrolling.
This was Kumar's second appearance before the panel. He had earlier also appeared before parliamentary committee on empowerment of women.
 The standing committee, headed by M Venkaiah Naidu, also quizzed the law secretary, who was also summoned on Friday, about the efforts being made to dispose of long pending cases involving crimes against women.
Members emphasised on establishing more fast track courts and urging courts across the country to expedite cases of crimes against women.
The panel was informed that there are 8,000 pending cases involving crimes against women in the Allahabad high court alone of which only 39 have been disposed of so far.
The standing committee received the Criminal Law Amendment Bill on Friday and will discuss it in detail, Naidu said.
"We are confident of tabling the Bill with amendments in Parliament in the forthcoming budget session. Views of the state governments will be invited for making it a better Bill. The Justice J S Verma Committee recommendations will also be considered," he told PTI.