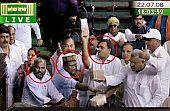 A Delhi court on Monday directed the police to "investigate from all angles" and trace the source of money in the 2008 cash-for-vote scam in which Amar Singh, L K Advani's former aide Sudheendra Kulkarni and two other BJP leaders have been chargesheeted.
The court directed the police to carry out "fair and impartial" investigation without leaving any loopholes to instil confidence in public mind in the case.
The Delhi Police was told by the court that it can file an additional charge sheet, if necessary, in six weeks after the probe.
The order of special judge Sangita Dhingra Sehgal came on a plea moved by BJP's Rajya Sabha MP Faggan Singh Kulaste, an accused in the case, seeking further probe in the matter to trace the source of money, the beneficiaries and the role of senior Congress leader Ahmed Patel in striking the deal to pay BJP's "vulnerable" MPs to vote in favour of UPA government.
Kulaste had also sought Patel's voice test identification alleging that co-accused Ashok Argal, also a former BJP MP, had disclosed that before delivery of Rs 1 crore at his residence, accused Amar singh facilitated him to talk to Patel over phone on July 22, 2008.
The court, however, noted police's submission that there was no direct or indirect evidence against Patel and his voice test identification is irrelevant as Argal was unable to recognise the voice of the person with who he had spoken on phone on July 22.
"In view of the facts and circumstances which have emerged on record, I am of the considered view that the investigating agency/ officer was bound to investigate the case from all angles in a fair and impartial manner leaving no loopholes, clear all knots doubt and instil confidence in the public mind," the court said.
It also reminded the investigating officer of the undertaking given to the Supreme Court last year to find the source of money in the matter.
"The investigating agency is reminded of its undertaking and the directions of Supreme Court contained in order dated September 2, 2011 to find the source of money," the judge said.