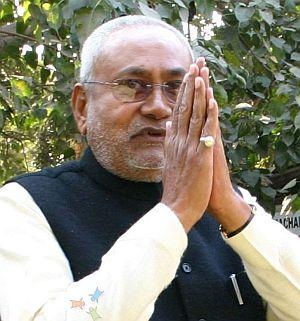 Seeking to end speculations about strains in the relations between national Democratic Alliance allies in Bihar, Chief Minister Nitish Kumar on Monday said Janata Dal-United and the Bharatiya Janata Party will together contest all 40 Lok Sabha seats from Bihar in the next general elections.
Kumar was responding to a question by journalists on the sidelines of his Janata Durbar about discordant voices in the NDA camp with both the BJP and the JD-U announcing their readiness to go it alone in the next general elections slated for 2014.
He, however, declined to answer a question on the BJP inviting Gujarat Chief Minister Narendra Modi to attend the 'Hunkar rally' by the party in Patna next year.     Kumar had himself fuelled speculation in this regard by exhorting the people at several public  meetings during his 'Adhikar Yatra' last month to vote for candidates supported by his government in all the 40 seats so that Bihar members of Parliament could play a key role in the formation of the next government at the Centre and in the bargain ensure that his special status demand is granted.
Later, he cleared the confusion saying he meant that the 40 contestants would be both from the JD-U and the BJP. Recently, state BJP president C P Thakur had publicly said the party  was geared to contest all 40 Lok Sabha seat on its own.
Several JD-U leaders had responded by stating that their party too was prepared to so the same.