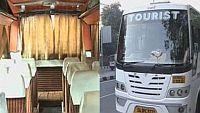 Senior Bharatiya Janata Party leader Sushma Swaraj on Wednesday lashed out at Sonia Gandhi, saying that the United Progressive Alliance chairperson should act firmly in the case involving the rape of a medical student and not demand action.

Swaraj said it is very unfortunate that the criminals have no fear of the Delhi Police.
"I was extremely surprised when I saw in the TV that Sonia demands immediate action. Soniaji's role is not to demand action, but to act. She has her own government. It should be that 'Sushma demands action, Sonia promises immediate action'. So, we were hoping that she would promise some action and some action would have been taken as of now," said Swaraj.

"But it is extremely distressing that those who are running the government are also demanding action. Delhi Police comes under the direct charge of the central government and not the Delhi government. So, the responsibility here rests with the home ministry," she added.

Swaraj, who is the Leader of Opposition in Lok Sabha, said the gang-rape case should be held in a fast track court.
"I had demanded that the guilty should be hanged. But I am once again repeating it that this case should be held in a fast track court and the decision should be taken in 30 days," she added, while emphasising that a message should be given to all that unfortunate incidents such as these would not be tolerated in the near future.
BJP leader Smriti Irani, who was also present during the protest, demanded harsher punishment for the accused.
A host of other women BJP MPs, including Najma Heptullah and Maya Singh, who have also joined the protest here are demanding death sentence for the accused.


Training guns at the Delhi Police for acting slow in cases like these, the BJP women MPs raised slogans that the country would not tolerate the insult to the feminine gender.