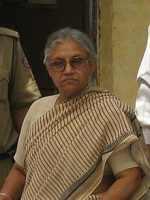 Delhi Chief Minister Sheila Dikshit met Home Minister Sushilkumar Shinde on Sunday and urged him to ensure rationalisation of police deployment, including for VIP security, and setting up a separate authority to look into complaints against personnel.

"VIPs should not be made an excuse for ordinary citizens to feel insecure," Dikshit told the media after the meeting.

Dikshit, who went to Shinde's residence along with all her Cabinet colleagues, also urged the home minister to ensure that policemen are deployed on public transport for ensuring safety of women.

The CM rushed to Shinde's residence immediately after presiding over an emergency Cabinet meeting which expressed serious concerns about the prevailing law and order situation in the capital following violent protests at India Gate against the gang-rape of a 23-year-old.

Sources said the Cabinet felt that concrete measures must be taken to instill confidence among women in the city.

At her meeting with Shinde, the CM asked him to ensure that the police commissioner, Lt Governor and the home ministry immediately put a mechanism to prevent recurrence of incidents like the gang-rape in a moving bus in the capital.

Since the confidence in law and order machinery is shaken, she said, steps must be taken for restoration of the same.
"Various measures like increased patrolling to visibility of policing and rationalisation of deployment by reassessing and reducing non-operational deployment, including VIP security, should be taken.
"There is a need to set up a police complaint authority to look into complaints against personnel. There is also a need for fast track courts for time-bound disposal of cases," she told Shinde.
She also demanded that strict and immediate action be taken against officers and personnel responsible for dereliction of duty in connection with the rape incident. The police should be made accountable and responsive, she said.