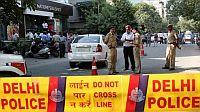 A lawyer to one of the accused in the Defence Colony cash van heist was arrested for allegedly helping her client in hiding part of the looted Rs 5.5 crore, taking the number of arrests in the high-profile case to 11.

Jyoti Batra is the advocate of Deepak Sharma, the first person to be arrested in the heist case, police said on Tuesday.

Sharma was arrested for his alleged involvement in the case and Rs 1.51 crore was recovered from his house in Pushp Vihar.

Based on his interrogation, police raided the house of Batra and recovered Rs 70 lakh of the looted money from her house and arrested her.

"Later on, Rs 10 lakh was recovered from one Pawan Sharma, who is known to her (Batra), and was asked to keep the amount in safe custody as she was expecting raid from Income Tax department," DCP, South District, Chhaya Sharma said.
Batra is the advocate of Sharma in a murder case and became friendly with him, the officer said.

With the recovery of Rs 80 lakh from Batra, the total cash recovery in the case has gone up to Rs 3.40 crore. Police have so far arrested 11 people, including Batra, since the incident took place on September 28.

The gang had waylaid the cash van on September 28,

pinned down a security guard and shot him after he tried to snatch their weapons. They fled the spot in the cash van leaving behind the car in which they were following the vehicle. The guard later succumbed to the bullet wound.

It was a raid at the main accused Hari Kishan's house in Khirki that helped the police in its trail. The key of the looted cash van was recovered in his house. Hari Kishan and his wife Rashmi were apprehended from Banda in Uttar Pradesh on October three.

The first to be arrested was Deepak Sharma, brother of Hari Kishan, on September 29, a day after the heist.

Police on September 29 managed to identify the house which was believed to have been used by the suspects. It belonged to Hari Krishan who had shifted recently and purchased it in his wife's name.

Raids were conducted at the house and from there, police managed to recover the keys of the abandoned cash van. Some other documents were also seized from the spot which indicated that the suspects had visited and stayed there.